Karen Koltrane Radio
para ouvir:
tocando agora:
Alcest - Into the Waves
Interlude - KarenKoltrane - Terror Movie
Ramones - I Wanna Be Sedated
The Smashing Pumpkins - The Everlasting Gaze
Bettie Serveert - Rudder
novas músicas:
Morosity - Adam...
Morosity - Eve...
Yakari - Autospace...
Yakari - Feel It Too...
Yakari - Higher Sphere...
Por que doar?
A Karen Koltrane Radio é totalmente mantida por seus ouvintes. Sem comerciais ou patrocinadores, estamos livres para tocar o melhor da música que encontramos. Mas isso significa que precisamos do seu apoio para manter este canal. Sinta-se livre para doar qualquer valor! =)
Clique aqui e saiba mais sobre nós
.


usuário(s)
online

Morre Jay Reatard aos 29 anos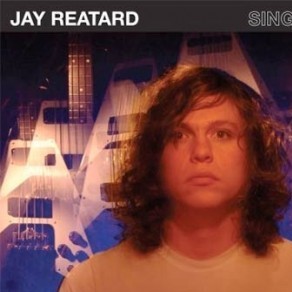 Polícia ainda não divulgou causa da morte
O músico norte-americano Jay Reatard, 29 anos, morreu em sua casa, em Memphis, na noite desta terça-feira (12), relatou em comunicado a gravadora Goner Records, que lançou discos do artista.
"É com grande tristeza que informamos a morte de nosso bom amigo Jay Reatard. Jay morreu enquanto dormia na última noite", diz o comunicado, acrescentando que informações sobre o enterro serão divulgadas assim que se tornarem disponíveis.
De acordo com o site de notícias de Memphis "The Commercial Appeal", um porta-voz da polícia local afirmou que o corpo do músico "foi encontrado por volta das 3h30 [horário local] em sua cama". Uma investigação sobre as causas da morte já teria sido iniciada.


A gravadora norte-americana Matador, que também lançou trabalhos de Reatard, se disse "devastada pela morte" do artista. "Jay era tão cheio de vida quanto qualquer um que já conhecemos, e responsável por muitos momentos mais memoráveis como pessoa e como artista. Estamos honrados de tê-lo conhecido e de ter trabalhado com ele, e vamos sentir terrivelmente sua falta."
Jay Reatard (nascido Jay Lindsey, 01/05/1980-13/01/2010) era um músico americano, de Memphis, Tennessee. Foi contratado da Matador Records. Lançou álbuns como artista solo e era membro de bandas como The Reatards e Lost Sounds. Esteve no Brasil em julho de 2009.
Discografia:
Com The Reatards
Álbuns:
"Teenage Hate" LP/CD (1998; Goner)
"Grown Up, Fucked Up" LP/CD (1999; Empty)
"Live LP" (2004; Goner)
"Bedroom Disasters" LP/CD (2004; Empty)
"Not Fucked Enough" LP/CD/CD-R (2005; Empty/Shattered)
45s/EPs
"Get Real Stupid" 7" (1998; Goner)
"Get Out Of Our Way" 7" (1999; Blahll!)
"Your So Lewd" 7" (1999; Empty)
"Untitled" 7" (2002; SSLD)
"Monster Child" 7" (2004; Zaxxon)
"Plastic Surgery' 7" (2005; Shattered)
"Totally Shattered Euro Tour" 7" (2005; Split with Angry Angles and Tokyo Electron; Kenrock)
"I Lie Too" 7" (2006; Zaxxon Virile Action)
Com The Lost Sounds
Álbuns
"Memphis Is Dead" LP/CD (2001; Big Neck!)
"Black-Wave" 2xLP/CD (2001; Empty)
"Rats Brains & Microchips" LP/CD (2002; Empty)
"Lost Sounds" LP/CD (2004; In the Red)
45s/EPs
"Plastic Skin" 7" (2000; Solid Sex Lovie Doll)
"1 + 1 = Nothing" 7" (2001; Empty)
"Split 7" with The Vanishing" (2003; Cochon)
"Ice Age" 7" (2004; Holy Cobra Society)
'Future Touch" 12"EP/CDEP (2004; In the Red)
Compilações
"Outtakes & Demos Vol. 1" CD-R (2001; Contaminated)
"Outtakes & Demos Vol. 1" LP (2002; Hate)
"Recent Transmissions: Demos & Outtakes Vol. 2" CD (2002; Contaminated)
"Demos II" CD (2003; On/On Switch)
"Demos & Outtakes Vol. 2" 3x7" (2004; Rockin' Bones)
Com Bad Times
"Bad Times" LP (2001; Goner/Therapeutic)
"Bad Times (Re-Release)" CD (2002; Sympathy For The Record Industry)
Com The Final Solutions
Álbuns
"Disco Eraser" LP/CD (2003; Misprint)
"Songs by Solutions" LP/CD (2007; Goner)
45s/EPs
"Eat Shit" 7" (2002; Therapeutic)
"Eye Don't Like You" 7" (2005; Shit Sandwich)
"My Love Is Disappointing" 7" (2005; Shattered)
"Return To The Motherland" 7" (2006; Frick & Frack)
FS/DF 7" (2007; Jethrow)
Com Nervous Patterns
Álbuns
"Nervous Patterns" CD-R/CD/LP (2003/2004; Contaminated/Cochon)
45s/EPs
"You Can't Change" 7" (2005; Zaxxon)
Com Angry Angles
"Things Are Moving" 7" (2005; Shattered)
"Crowds" 7" (2005; P. Trash)
"Totally Shattered Euro Tour" 7" (2005; Split with Angry Angles and Tokyo Electron; Kenrock)
"Split 7" (2006; Split with Digital Leather; Shattered)
"Apparent-Transparent" 7" (2006; Plastic Idol)
Com Terror Visions
"World of Shit" LP/CD (2007; FDH)
"Endless Tunnel" EP
"Blood in America" 7" (Disordered)
Com Destruction Unit
"Self-Destruction of a Man" LP/CD (2004; Empty)
"Death to the Old Flesh" LP/CD (2006; Empty)
Como Jay Reatard
Álbuns
"Blood Visions" LP/CD (2006; In the Red)
"Watch Me Fall" LP/CD (2009; Matador)
45s/EPs
"Hammer I Miss You" 7" (2006; Goner)
"Night of Broken Glass" 12" (2007; In the Red)
"Split with the Boston Chinks" 7" (2007; P. Trash)
"In the Dark" 7"/6" (2007; Squoodge)
"I Know a Place" 7" (2007; Goner)
"Blood Demo" 7" (2008; Stained Circles)
"See/Saw" 7" (2008; Matador)
"Painted Shut" 7" (2008; Matador)
"Always Wanting More" 7" (2008; Matador)
"Fluorescent Grey" 7" (2008; Matador)
"Trapped Here" 7" (2008; Matador)
"No Time" 7" (2008; Matador)
"Hang Them All" 7" (2009; Split with Sonic Youth; Matador)
"Telephone Network Voltage" 7" (2009; Split with Thee Oh Sees; Shattered)
Compilações
"Singles 06-07" LP/CD/DVD (2008; In the Red)
"Matador Singles '08" (2008; Matador)
"Greatest Messes [Digital Release]" (2009; Shattered)
Participação em coletâneas
"We Heart The Blowtops – Tribute" 7" [Track: Venom Victims Wine] (2006; Big Neck)
Veja também:
veja também:
outras notícias: